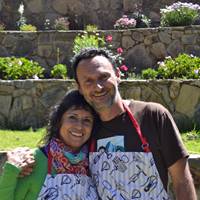 Bruno & Delicia Reviron, Founder - Administrator
Copacabaña Lodge - Huaraz
Copacabaña Lodge - Huaraz to COPA GRANDE
Copacabaña Lodge (a ★★★ hotel) was born from a French-Peruvian fusion: French for the style of the tower that is inspired in the medieval castles and Peruvian for the construction of 2 floors with balconies and the theme of the chacana that appears with the Chavin culture.
Located in the Cordillera Blanca at the foot of the Nevado Copa, just 35 km from Huaraz, it is an exceptional place to disconnect from the stress of the city, to find peace and tranquility ...
From the Lodge you can walk, get to know the community and you can ask Bruno to organize the touristic tours of your interest ...
The food is simple, like home, with products from the area, but spectacular!
Copacabaña is an Eco-Lodge that tries to minimize its environmental impact by recycling water and solid waste, using solar, hydraulic energy and planting more trees every year. More than a hotel, with Copacabaña Lodge you will live an unforgettable experience.

Your Comfort, Our Services
Airport or railway station shuttle
Bar
Board games
Cable / satellite
Disabled access
Free parking
Garden
Hairdryer
Hiking
Library
Living area
Luggage storage
Massages
Mountain views
Non-smoking rooms
Pets not allowed
Picnic baskets
Playground
Restaurant
Sheets and linen included
Shuttle for additional activities
Television room
Terrace
Tourist information
Latest News
Copacabaña Lodge opens a new modern website to make online reservations ...
Read All News